Exhibit 10.1
September 28, 2022
Dear Markus Hartmann,
We are pleased to offer you employment as General Counsel at Mister Car Wash! We look forward to a tentative start date of October 28, 2022.
Your position is classified as full-time exempt. Your annual salary will be $350,000, payable biweekly at a gross rate of $13,461. Your compensation package will also include the following:
•
Bonus – You will be eligible for a target bonus of forty percent (40%) of your annual salary, payable after the annual earnings release. Bonus payment is contingent upon the company's attainment to our financial plan and your continued employment as of the payment date.
•
Long-Term Incentive – Subject to approval by the Compensation Committee of the Board of Directors, you will be eligible on an annual basis for a grant of nonqualified stock options (NQSO) and restricted stock units (RSU) with a value of $250,000 (subject to proration based on the date of grant) and a three-year vesting period. We anticipate the grant will be split 50/50 between NQSO and RSU. The grant notice will include further details, including eighteen-month non­competition and non-solicitation provisions (meaning that once your employment ends you will be restricted from working in the car wash industry and prohibited from soliciting customers or employees). The eligibility, valuation, vesting, and other details ore subject to the 2021 Incentive Award Plan and may be modified by the Board of Directors.
•
Relocation Assistance – You will receive an Executive tier relocation package, which includes a $15,000 lump-sum payment and a household goods move with NEI, our relocation partner. See attached for further details.
•
Phone Reimbursement – You will be eligible for a $100 monthly phone reimbursement, payable on the first paycheck of each month.
•
Benefits – We offer a broad program of employee benefits, including the following. Full descriptions are available at benefits.mistercarwash.com.
✓
Paid Time Off (PTO)–You will be eligible for the company's open PTO program and are encouraged to take the time needed to operate at peak performance subject to your supervisor's approval and your department's business needs.
✓
Health Benefits–You will be eligible to participate in the company's medical, dental, vision, life, AD&D, and short-term disability plans on the first day of the calendar month following your first 30 days of service.
✓
Paid Leave–Mister Car Wash provides paid parental leave (up to six weeks) upon the birth of a child to eligible employees after twelve months of service.
✓
Retirement Benefits – Mister Car Wash provides a 401(k) retirement plan with a discretionary company match to eligible employees after six months of service.
This offer is contingent upon:
•
Satisfactory completion of a background investigation prior to the start of your employment;
222 E. 5th St. Tucson, AZ 85705 - www.mistercarwash.com - 520-615-4000
---
•
Verification of your right to work in the United States as demonstrated by your completion of the Form 1-9 upon hire and your submission of acceptable documentation (as noted on the Form 1-9) verifying your identity and work authorization within three days of the start of your employment; and
•
Your written acknowledgement within one week of your start date of the Confidential Information and Invention Assignment Agreement.
Congratulations on behalf of the entire company! We trust that your knowledge, skills, and experience will provide significant value to the organization, and we look forward to seeing all that you will accomplish.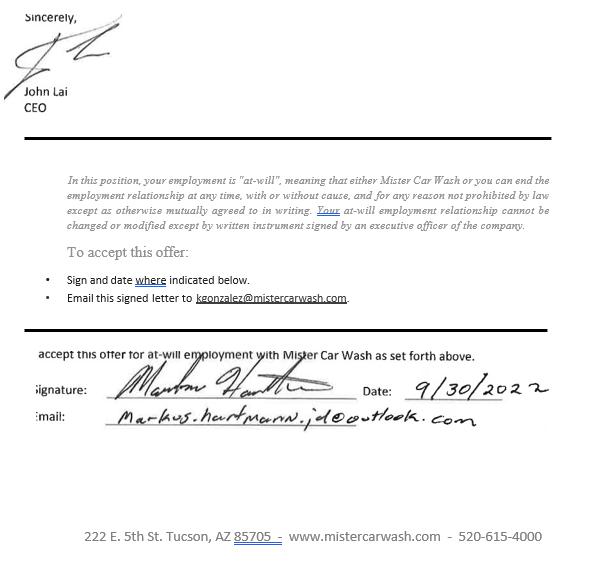 222 E. 5th St. Tucson, AZ 85705 - www.mistercarwash.com - 520-615-4000
---